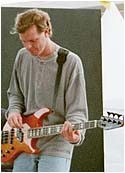 When Mark was a little boy, he didn't say much. Finally, his parents said "here, honey, why don't you play the bass?" He didn't really see any reason why he shouldn't, so he did. Mark is our bass player. He keeps a beat going, so Bob, the drummer, has something to follow.

Mark still doesn't say much....


Mark feels bad for his best friend, Kyle, knowing how troubled he still is over Frank, the janitor. Mark is glad he wasn't in the junior high band.