Charles M. Hatfield "The Rainmaker" (1876-1958) Back in the early 1900's, Charles Hatfield, who referred to himself as "The Moisture Accelerator" was known as a folk hero to many Southern Californians. He had experimented with chemicals and "evaporating tanks", fulfilling hundreds of rainmaking contracts throughout Los Angeles and the Central and San Joaquin Valleys. His rainmaking attempts came after researching meteorology and the experiments by men who encouraged rain with heat from fires and concussions from explosions.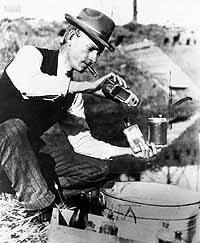 In 1915, San Diego's Morena Dam reservoir was barely one-third full, and the city's growth hinged on an ample water supply, so the city council of San Diego contracted with Hatfield to fill the Morena Reservoir with water. They agreed to pay him $10,000, once the reservoir filled up. Hatfield, with help from his younger brother Joel, went to work, building a twenty-foot tower base then adding an eight-foot extension for his tanks and other paraphernalia next to Morena Dam, sixty miles east of San Diego. Early in the new year, it was said that smoke and fumes began wafting upward.
On January 10 it rained hard. Five days later it poured, and water kept falling for five more days. The downpour temporarily halted a Panama-California Exposition in Balboa Park. Officials scrubbed opening day races at the new Agua Caliente Race Track in Tijuana. Dry river beds filled so fast that some smaller bridges disappeared. Rising waters marooned a Santa Fe train just north of the city and sea launches rescued the passengers. More bridges washed away. Homes flooded. The saturated sod served as a skidway for the water. A dam at Lower Otay Lake "simply vanished under the pressure" said Williams and Pepper. The Sweetwater Darn ruptured. Muddy waters covered farms and ranches. Homes slipped off their foundations; some ended up like flotsam. Enough water flowed over the dam to have filled the reservoir a second time, Hatfield estimated.
Three and a half million dollars worth of lawsuits followed. In two court decisions, the flood was ruled an act of God, not Hatfield. The Rainmaker never got his $10,000.
His secret rainmaking formula died with him in 1958, according to his brother Paul. Burt Lancaster played a character resembling Charles Hatfield in the 1956 movie "The Rainmaker", based on a play with the same name. A musical, "110 In The Shade", also added to the folk hero's fame. Exerpts taken from :
http://www.sandiegohistory.org/bio/hatfield/hatfield.htm
[biographical sketch from San Diego Originals by Theodore W. Fuller, published by California Profiles Publications, 1987]